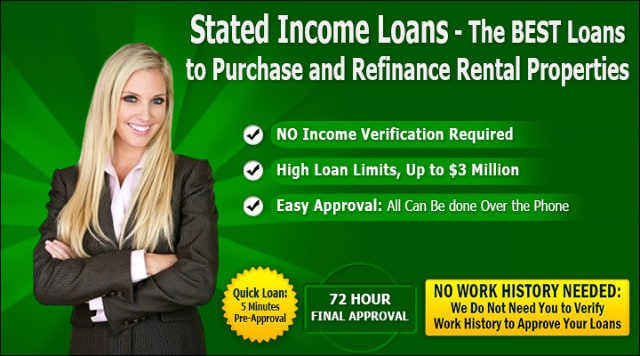 Have you been dreaming of owning a house? Or maybe you want to refinance an existing mortgage or any other type of home loan financing. Having a hard time in securing a mortgage loan? Worry not as you can change your fantasy into reality. QKMortgage.com team will offer you any kind of home loan financing that you may be seeking.
About QKMortgage.com
QKMortage.com is a lender whose primary goal is to help their clients access the best mortgage loan within a short period of time.
Why choose QKMortgage.com as your lender?
The team at QKMortgage will help you to understand the risk and benefits associated with stated income mortgage loans. QKMortgage.com has an outstanding reputation, making it an ideal loan resource for those in search of a stated income mortgage loan.
QKMortgage.com provides you with:
Stated income loans ( no verification loans)
Conventional loans
Reverse mortgage loans
HARP program loan and
FHA loans
QKMortgage.com Stated Income Mortgage Loans
Stated income mortgage loan is a type of loan which requires no income verification, tax returns, pay stubs or other employment information or work history. If you are self-employed, this may be a very viable loan for you.
Stated Income Mortgage Loan Requirements.
A good credit score (FICO 600)
A 30% down payment
Loan amounts between $125,000 and $ 2 Million
Stated Income Mortgage Loans Benefits.
Short approval times. Other types of loans have income verification processes, which can cause a delay in a loan approval. With QK stated mortgage loans, there is no income verification. As such, loan are usually approved within 3 days.
For the first three years of your loan, stated income loans have a fixed interest rate between 7-7.75 %.
You can qualify for a stated income mortgage loan with a credit score as low as 600.
High loan limits. QKMortgage loan lenders make it possible for you to borrow up to $ 2 Million — with no proof of income documentation.
10% of the 30% down payment required is allowed to come from gift funds.
QKMortgage.com is a real-time mortgage loan provider.  Call us now at (866) 690-7463 to get your loan approved within 72 hours with no upfront cost.  For more information, visit our website. Mortgage loan application forms are available online.