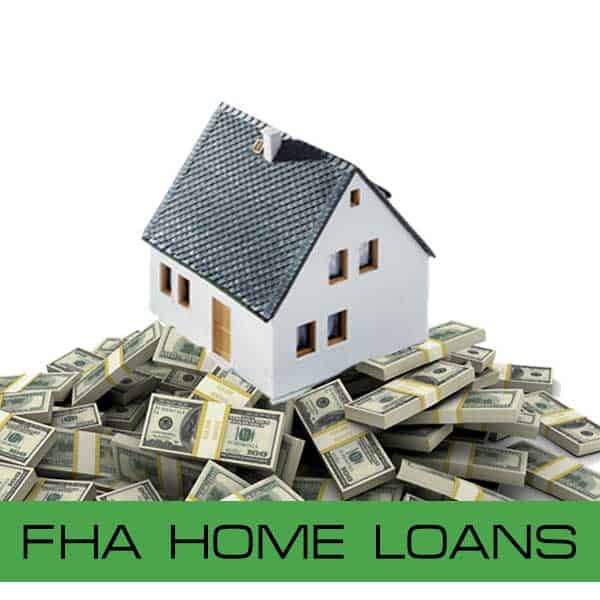 Are you looking for an FHA loan? FHA home loans provide the opportunity to fulfill your dream to easily refinance or purchase a home with a very low down payment and with a very quick and easy FHA loan approval.
What Is an FHA Loan?

What is an FHA loan? An FHA loan is insured by the Federal Housing Administration. In simple terms, that means it is paid back by the federal government if there is a default. FHA loans have become very popular in recent past years due to their numerous advantages. However, there is a requirement that anyone choosing an FHA loan must buy insurance [MIP] that protects against a default.

FHA home loans can save thousands of dollars in down payments and provide an alternative to those who have had financial difficulty and a resulting low FICO score. FHA loans are ideal for those who want to buy their own property but don't have enough savings to come up with a hefty down payment. Presently, the FHA loan down payment is as low as 3.5%. With the backing of the Federal Housing Administration, FHA loans have become a popular lending alternative for home buyers, with low-interest rates and less strict qualifying requirements compared to other mortgages.

How to Qualify for FHA loans

If you are interested in an FHA loan, we are able to quickly walk you through the application form. We will tell you right away whether you qualify for the FHA loan down payment approval. We help you to handle the details of the paperwork, and the gathering of income statements. Our team is here to help. Here is a very short list of documents needed with the application form:

Social Security Card
Recent bill statements etc
Residential addresses of the last two years where you have lived in

We process your loan application the same day. Our team moves quickly so that your loan gets pre-approved in less than 72 hours. For a pre-approval, call us today.

The primary consideration for approval is good credit history. Seeking approval for the FHA loan is less difficult compared to the guidelines of conventional loans. The minimum credit score for FHA loan is 580, as compared to 700 FICO scores for other loans. In addition to credit history, you will be asked to show:

Your employment history and
Your ability paying off the amount on a monthly basis thereby maintaining a certain percentage on the savings account.

Requirements to apply for FHA loan:

Below are the requirements for an FHA loan application:

Minimum Fico score should be 580
You should be able to make the down payment of 3.5%
Valid Social Security Number
Residential addresses of past 2 years
Debt ratio to be lesser than 50%

The FHA max loan amount depends upon the valuation of your home and area where it is situated. Remember the FHA loan limit can differ from one state to the other.

Benefits of FHA Loan

The basic aim of FHA lending is to make it possible for every resident of the United States to become a homeowner. For you, FHA loans can provide the peace of mind that comes with buying your own home and enjoying the many tax benefits that come with homeownership.

Low Down Payment

Currently, FHA down payments are as low as 3.5%, as compared to 10% or 20% typically required for conventional lending requirements. With an FHA loan and a lower down payment, you can purchase your own home sooner and begin building equity more rapidly.

Low Credit History

The minimum FICO score for FHA approval is 580. An FHA loan is a great option if you have been rejected for other loans for different reasons. If you have been through a past foreclosure or bankruptcy, you become eligible for an FHA loan after foreclosure after a period of 3 years; 2 years after bankruptcy. You can seek an FHA loan after short sale after a period of 3 years.

For those who have experienced hardship resulting in foreclosure, short sale or bankruptcy, FHA also provides an option to apply under the "back to work" program; which cuts the waiting period substantially. See more information about the program below.

Low-Interest Rates

FHA loan rates are very competitive, and low-interest rates are also available for those who have credit issues. When you apply for an FHA loan, you will be quoted the interest rate available for your loan based on the present market rates.

High Debt Ratios

FHA is flexible when it comes to limits of debt-to-income [DTI] ratios in comparison to other loans. In other words, if your estimated mortgage payment is more than 1/3 of your income [the traditional guideline for a conventional loan], it is still possible to have your loan approved through FHA. FHA loan guidelines allow up to 50% Debt To Income. In other words, your mortgage payment can be as high as 50% of your monthly income under FHA guidelines.

Why You Should Refinance with FHA Loan Program

The FHA loan program offers borrowers several advantages for a refinancing; simple income verification, no asset verification, low FICO score requirements, and no credit card and expense verification requirements. Common reasons to refinance FHA loan uses:

Consolidation of credit card bills (or)
Renovate your home (or)
Educational loan (or)
Vacation and travel (or)
Weddings, special occasions

No matter what the reason is, refinancing your loan through the FHA loan program caters to all your needs; there are no restrictions applied to the use of the loan proceeds. Understanding the types of FHA home loan refinancing options will help you to make your decision:

Basic FHA Refinancing Loan

The basic FHA loan can be sought by anyone. This refinancing loan option allows you to apply for traditional FHA home refinancing even if your original mortgage is not an FHA. It functions similar to traditional loan refinancing provided your original loan has insurance from the Federal Housing Administration. Call to see if you are eligible for basic FHA loan refinancing.

FHA Cash-Out Refinancing Loan

With this type of refinancing, you can apply for cash out, as long as your home has equity. This specific loan is a great option for homeowners with increased property values. Using this option, you can pay off your current mortgage and also have additional cash to use for your other financial expenses.

FHA Streamlined Refinancing Loan

Streamlined refinancing loan is meant specifically for current FHA loan holders seeking a lower interest rate in a new FHA loan. This loan option can often be faster in comparison to other refinancing loans.

Requirements for streamline submissions:

Verbal Verification of Employment- If currently not working, call for help
No assets required- unless the borrower is short to close
No appraisal
Mortgage only credit report with a min 620 FICO

FHA Loans for First Time Buyers

Owning a home is a dream come true for most people. Nevertheless, many Americans find it difficult financing a home purchase for the first time [usually because it is impossible to save 20% of the purchase price for a down payment]. For first time buyers, qualifying can be problematic due to financial difficulties or lack of savings showing in bank accounts. Our FHA loan down payment is a great option for a first-time buyer even after being rejected for other home financing options for any number of reasons.

FHA loans are insured by the Federal Housing Administration to protect against a default by the borrower. That said, FHA requires borrowers to purchase MIP insurance to protect against default.

Benefits of FHA loans for First Time Buyers

FHA loans for first-time buyers are intended to make it easier to buy a first home by lowering the down payment requirements substantially [3.5%]. FHA loans are ideal when a buyer does not have enough savings for the typical hefty down payment of 20%. In addition, low FHA loan interest rates make it possible to qualify for an affordable monthly payment.

FHA loans for first-time buyers are designed to be approved more easily than other loans. With FHA flexible guidelines, it is not necessary to have a high credit score. FICO requirements for first time home buyers are 620 or better.

How to Qualify For the FHA Back to Work Program

Uncertainties can happen in a person's life. Economic events such as short sale, bankruptcy, foreclosure or multiple late mortgage payments resulting in negative credit history can make it very difficult to qualify for a home loan. Usually, after such economic events, one has to wait for 36 months in order to buy a residence and qualify for a mortgage. The FHA back to work program was introduced as a solution to buying a home with poor credit.

The Department of Housing and Urban Development created the "Back to Work – Extenuating Circumstances" FHA loan program in 2013. The program is available through September 2016. The aim of this loan program is to give families with poor credit the opportunity to own homes.

Under this loan program, if a person has faced foreclosure, bankruptcy or short sale, they may still be eligible for a home loan provided that he/she is back to work and can show proof of extenuating circumstances. In most cases, you can buy a primary residence 12 months after the incident occurred.

FHA loan qualifications for Back to Work Program

Proof of Extenuating Circumstances

To apply for the FHA back to work program, you will need to show that a previous foreclosure, bankruptcy or short sale occurred because the situation was under your control. You will need to show proof of resolution before you qualify for the loan approval.

Back to Work FHA loan guidelines

To seek approval for FHA back to work program, you should meet the FHA loan guidelines, which include the following:

Certified property appraisal form by FHA appraiser
Ability to pay the down payment i.e. 3.5%
Debt ratio lesser than 50%
Valid Social Security Number and
Past 2 years residential addresses

Re-established credit score

The minimum credit score for FHA loan is 580. Re-establishing credit history is important when applying for the back to work program. The FHA looks for 12 months of on-time payments for credit cards.

HUD-Approved Housing Counseling

Housing counseling is required to be approved by HUD for a back to work program loan. Once you have completed the counseling process you become eligible to apply for the FHA Back to Work program loan.

What is an FHA rehab loan?

The FHA rehab loan or 203k enables both home buyers as well as homeowners to borrow funds for:

a) purchases or refinancing of a home as well as
b) rehabilitation and improvement costs using a single mortgage or financing rehabilitation of their present homes respectively.

FHA 203k loan allows repairs for additions of room, flooring, bathroom remodeling, AC systems, etc. Whether you want an FHA 203k loan or looking to buy a new home, call us today and help you to get the loan you need as quickly and easily as possible.
FHA loans are a perfect choice if you have been denied a home loan due to credit or reserves. One of the advantages of FHA is the lower credit score requirements, as the guidelines are generally more lenient than other loans. There is a 580 minimum credit score for FHA loan, which is much lower than the 700+ FICO score required for other conventional loans with higher down payments. Even if your credit history is poor, you may still be able to qualify for an FHA loan.