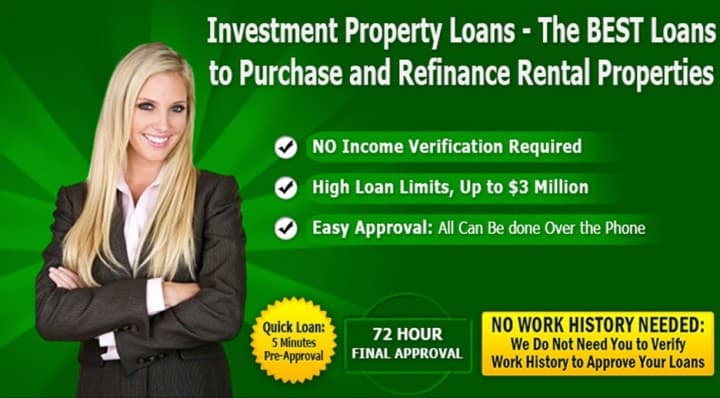 QKMortgage.com is a finance lending provider that process investment properties loans for investors to buy rental properties. QKMortgage.com lending process is tailor down to avoid the lengthy and laborious process that is typical of commercial banks and other related lending institutions by providing an easier way in which you can have access to investment properties loans to achieve your goals. As part of the loan program, they have included loans that are targeted to investors who don't have stable incomes and for those who lack the necessary tax documents but have the desire to buy rental property.
Stated income loans
This investment properties loan is most suitable for small business proprietors and individuals who are self employed. It is also suitable for people with show a low net income on their tax returns.  This loan program requires a minimum credit score of 600, and a down payment of 30% (or 30% equity for a refinance) is required. No income documentation is required to qualify for this loan.
Another convenience of the stated income loan is the acceptability of gift funds as part of the down payment.  Loan amounts can be as high as $3 million.
FHA loan
This is one of the easiest loan programs to qualify. Its requirement is that a borrower should have a steady job history of two or more years, a low down payment of 3.5% of the purchase price and a low credit score. It is usually government insured and down payment assistance is available up to 103%. Moreover, gift funds can also be used up to 100% of the closing costs and the down payment.
HARP program
This loan requires no appraisal and its interest rates are very low. It is designed to help homeowners to refinance their existing loan at the current interest rates. No equity is required, and one may still qualify even if the property's value is less than the mortgage balance, although on time mortgage payments for the past 12 months is mandatory.
QKMortgage.com has developed tailor made investment properties home loans that are convenient to different people with different income levels and economic capabilities. Loan program at QKMortgage.com requirements and mortgage repayment methods are both flexible.