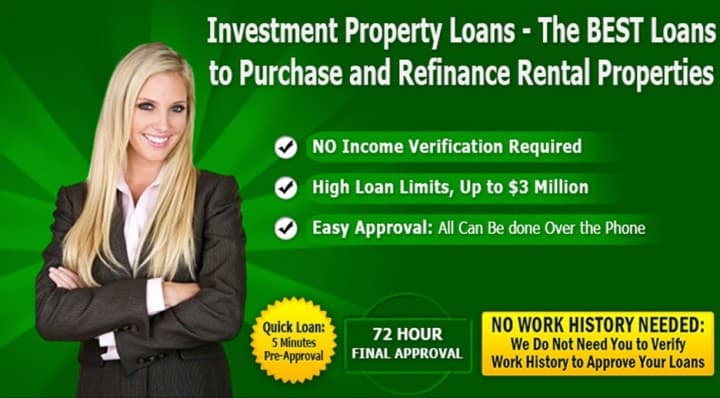 If you are looking to invest in the real estate market you may be looking for a mortgage that doesn't have traditional guidelines. If you have a substantial amount of equity or savings for a down payment, but cannot show high taxable income, an investment property loan now exists that does not require proof of income. Even if your credit is less than perfect and you don't need to show tax returns or bank statements to prove income to qualify for a stated real estate investment loan.
At QKMortgage.com if you need loans for investment property we have the answer. The agents at QKMortgage.com offer investment property loans without the hassle of income documents that need to be provided for conventional loans. A Stated Income Loan does not require verification of income. All you need is a good down payment and a FICO score of 600 or higher.
If you are a business owner or self-employed it can be difficult to get a conventional loan for investment property due to low reported income on tax returns. With the stated loan offered through QKMortgage.com, borrowers can get quick approvals with competitive rates. Most pre-approvals are on the first call because there are no income verification requirements. At QKMortgage.com, our mortgage experts have the experience to get your real estate investment loan approved and funded within 30 days.
If you're looking for a great chance to get a loan for investment property then we can help. We do not require any docs to prove your income. All you need is a stated income loan and these can be used for real estate investment loans.
Stated Income Loan Requirements
The real estate investment property must be non-owner occupied
There is a minimum loan amount of $125,000
For a purchase: 30% down payment, or 30% equity in the property for refinance
With QKMortgage.com, investment property loans are approved quickly because of the streamline underwriting requirements. The QKMortgage.com loan agents can get usually get you pre-approved on the first call. Investment property loans are now available for people who couldn't previously qualify for a conventional loan. The QKMortgage.com loan experts can typically get your loan funded within 30 days.
With a Stated Income Loan you can qualify for up to two million dollars today. Our investment property loans require no income verification or tax documents. This cuts down on all the paperwork and helps you get approved quicker and easier, and get your loan funded faster.
Contact us today to get started on your real estate investment loan. The process is much easier and faster than a regular loan. Our loan experts are standing by to help you and with their knowledge will help you get approved today. Now, for the first time in years, real estate investors can take advantage of real estate investment loans with no income verification. The QKMortgage.com Stated Income Loan makes it easy to get pre-approved. With the QKMortgage.com stated loan, you will not need any docs for verification of income. Call us today for a fast approval, (866) 690-7463!