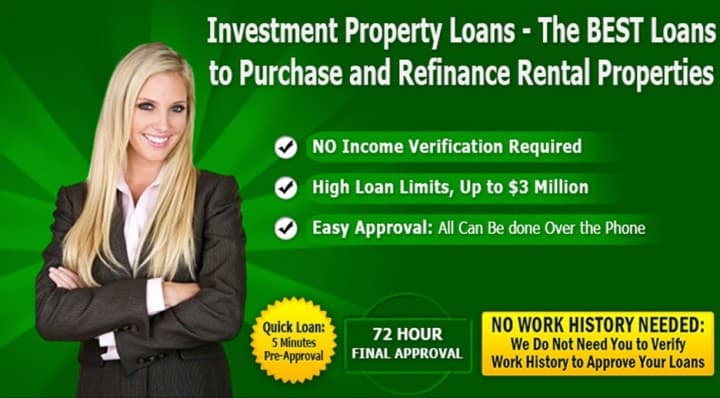 If you're looking for a mortgage geared towards investing in the real estate market, QKMortgage.com offers a quick and simple option for investors buying or refinancing investment property. QKMortgage.com offers investment property loans for non owner occupied residential properties up to 4 units. The QKMortgage.com stated loan is a great solution for investors who do not show high income on tax returns, or borrowers who don't have the steady income to qualify for a conventional real estate investment loan.
If you need loans for investment property, QKMortgage.com has the answer. We offer investment property loans with no income documents needed. Stated Income Loans are now a great option for investors who need a quick and easy funding process with no underwriting hassles and no verification of income. Stated income loans do not require tax returns because there is no verification of income.
Here are the stated income investor loan requirements:
The property has to be non-owner occupied
There is a minimum loan requiring $125,000
Minimum 600 FICO score or higher
30% down payment for a purchase, or 30% equity for a refinance
These investment property loans are quicker to get approved because of the minimal requirements and streamlined underwriting guidelines. In most cases, the QKMortgage.com loan agents can get you pre-approved on the first call. QKMortgage.com can get you approved for final underwriting in just 72 hours, and most loans can be funded in less than 30 days from the time of approval.
If you are a business owner or self-employed it is sometimes hard to get a loan for investment property. If you have been turned down for a conventional mortgage, with the QKMortgage.com Stated Income Loan, you have a better chance of being approved. Stated income loan requirements for approval ensure that you will not need any docs for verification of income. With a Stated Income Loan you can qualify for up to two million dollars. You only need a FICO score of 600 and 30% down or 30% equity.
Interest rates for a QKMortgage.com investment property loan are very competitive, making your monthly payments very affordable. If you're looking for a great chance to get a loan for investment property then we can help. QKMortgage.com is a great option for real estate investment loans. Call QKMortgage.com today for a fast pre-approval for a real estate investment loan. Our mortgage experts can get you approved fast. They have the experience to get your real estate investment loan approved.
Contact us today to get started on your real estate investment loan. The whole process is easier and faster than a regular loan. Our loan experts are standing by to help you and with their knowledge will help you get approved today.