Call Now For Fast Approval:

(866) 690-7463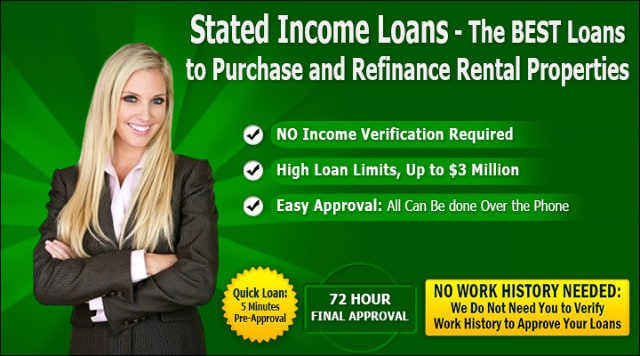 Being a homeowner is a part of the American dream. Millions of people work hard every day with the eventual goal of driving up to their own plot of land that belongs to them. The market is changing though. Recalling the 2008 recession, a huge shift occurred and people started to see their jobs as unstable. It caused thousands of people to reconsider their work choices and move into the world of the self-employment status. In addition, some people moved into the retirement phase of their lives and don't have the ability to procure lending via traditional methods.
The question is, how do the self-employed and retired qualify for investment home loans? The answer is the no doc mortgage loans of 2016, also referred to as stated income home loans. The good news with these types of loans is that there is no income verification required.  No pay stubs, no W-2s, no tax returns. The ease of these types of loans can not be matched by other loan types.
Call Now For Fast Approval:

(866) 690-7463
Contact us today and let our agents guide you through the world of no doc mortgage loans for 2016. We can easily show you exactly what you need to gain the financing needed for your dream home.
Stated income loans lenders have requirements, but they are not as difficult as the alternatives. QKMortgage.com helps retired borrowers and the self-employed borrower to find funding for purchases or refinancing. This type of loan is for investors who may not have either a stable or verifiable income.
When it comes to the requirements though for no doc mortgage loans in 2016, borrowers should have some education on what is needed. Large sum down payments and a minimum credit score are required (usually 30% and 600 FICO, respectively).  This loan program required no income documentation or verification, and with a plus, the processing time to fund is drastically reduced.  These loans usually fund in less than 30 days.