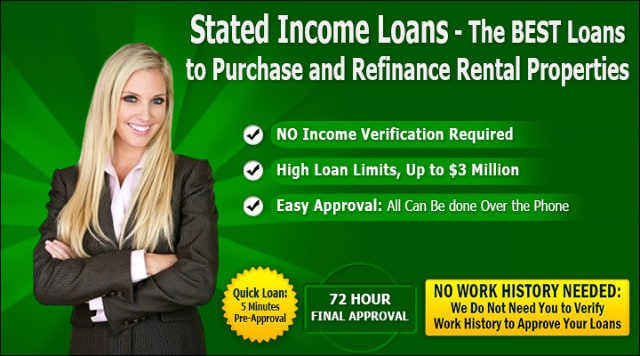 Getting home loans for purchase and refinancing has now become easier and hassle-free with no income verification loans offered by QKMortgage.com, where lenders do not require income tax documents for the loan approval.
May 18, 2015 – Los Angeles, CA — Borrowers with good cash flow and savings can now qualify for easy and hassle-free stated loans with the no income verification loan program offered by QKMortgage.com. Borrowers can expect a quick loan approval without income verification for buying or refinancing a house. Stated loans will permit many borrowers with low reported income on their tax returns to buy or refinance a home.
According to Darryl Bledsoe of QKMortgage.com, "Borrowers with low reported income often find it difficult to qualify for a loan. Their loan applications are turned down because the tax returns do not show enough income to qualify. A borrower with good cash flow and reserves now has the option to state their income without submitting tax returns. QKMortgage.com offers the stated income loan program specifically for borrowers, such as self employed business owners, seeking a speedy loan approval, without the red tape of a conventional loan." Even if a borrower has poor credit, a FICO score of 600 will be sufficient to secure a loan from QKMortgage.com with most stated income loan lenders.
Borrowers will find that there are many advantages of applying for a stated loan through QKMortgage.com. Interest rates are still low, typically ranging between 7% and 9%. Funding for stated loans is generally faster, as the underwriting requirements are more streamlined than verified conventional loans. Down payments requirements are similar to traditional conventional loan programs which require 20% down, but most stated income loans require a total of 30% down for a purchase or 30% equity for a refinance. Borrowers can accept gift funds for a portion of the down payment, which makes it further affordable for a purchase.
With the QKMortgage.com stated loan program, borrowers can borrow up to $2 million without providing tax returns or any type of income verification documents. Going stated is a very good self employed home loan option and a great option for investors as well, as non-owner occupied properties are also accepted for the loan approval. Borrowers with good cash flow and savings can now qualify for a home loan to buy or refinance a residential property up to 4 units.
The loan agents of QKMortgage.com will take the time to understand a borrower's needs and suggest the best solution to secure a fast loan approval, without the tedious paperwork and the income verification documents required by conventional lenders. Borrowers can get a loan pre-approved within 72 hours for most loan scenarios. For a quick loan approval, call and talk to their loan agents at (818) 208-2114 or visit https://qkmortgage.com/stated-income-home-loans/.
This article is also published on:
http://pr.co/
http://www.releasewire.com/
http://www.myprgenie.com/

http://www.briefingwire.com