Income verification is one of the most draining aspects of a loan verification process. QKMortgage.com gives a great option to loan seekers with uncomplicated loans and no income verification.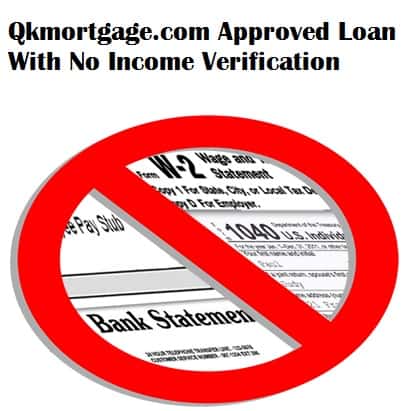 Los Angeles, California, January 26th 2015 – Acquiring a home loan from a reputable financial institution can be extremely difficult at times. Stated income home loans by QKMortgage.com make it easier for individuals wanting to obtain home loans. The option to qualify for a loan without tax returns and bank statements is now available to any person seeking a home loan. As part of the stated income loan plan, applicants must have 20-30% for a down payment when buying a home, without any strict income verification. The loan is particularly ideal for small businesses owners and entrepreneurs who declare low income on their tax returns.
As experienced Stated Income mortgage lenders, QKMortgage.com promises quick home loan approvals to applicants. Home buyers can purchase homes of up to $2 million value without income proof. Loan Agent Darryl Bledsoe from QKMortgage.com says: "All we ask of our loan applicants is to maintain a healthy credit score and keep enough money in the bank to make a down payment. While a 20-30% down payment is generally required and 10% of that down payment can be borrowed from the seller or an acquaintance."
Since there is no income proof required to qualify for a stated income loan and there are other distinct benefits of the program, the interest rate for these loans varies between 7% and 7.5%. "Although the interest rates are a little high, this does not restrict the borrower to seek refinancing with conventional loans after a period of 3 years;" according to Darryl Bledsoe. Borrowers are fully exempt from prepay penalties after 3 years. With the no income verification loan, QK Mortgage also promises thorough end-to-end customer support for the entire duration of financing.
Agent Darryl Bledsoe said: "The no income verification loan is intended to fast track approvals for borrowers who have down payments saved and are ready to buy without the hassles of submitting tax returns and bank statements and going through months of underwriting. Unlike verified income loans, a stated income loan does not come loaded with unwanted clauses and several fine-print lines."
First published on QKMortgage.com at: https://qkmortgage.com/qkmortgagae-com-now-offers-no-income-verification-loans-customers/

This article is published on:
http://ask.com
http://PrBuzz.com
http://ReleaseWire.com
http://www.digitaljournal.com/
www.forimmediaterelease.ne