QKMortgage is extending stated income mortgages to borrowers who do not qualify for traditional home loans.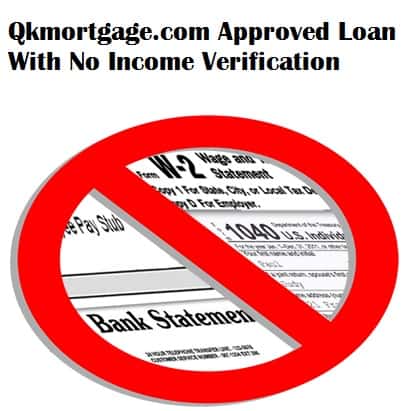 The requirements of a traditional loan are typically beyond the reach of self-employed borrowers who do not report high income on their tax returns.  For conventional loans, there are many hurdles a self-employed person has to clear.  Most self-employed people cannot satisfy the criteria for traditional loans when it comes to verifying their income and ability to pay the loan on a regular basis. With stated income mortgage lenders like QK Mortgage there are no proof of income requirements to be met, as long as credit score and loan to value ratios make sense.
Traditional Mortgage Requirements
Traditional mortgage requirements can be difficult for most self-employed people to meet. Not because they were designed to cut out the self-employed, but because they were established for the safety of the lender. Conventional requirements include a high FICO score as well as proof of income and sufficient proof of down payment funds before they will agree to approve the mortgage loan. With self-employment, this can be difficult because of business debt. When a person is self-employed, business debt is sometimes reported on their FICO score, lowering their personal score, sometimes too far to qualify for a traditional home mortgage loan. Another consideration is the down payment; again when banks look at the ability to pay the down payment they take into consideration what is called a debt to income ratio. In the case of a self-employed person, personal debt and business debt are both considered in this ratio. These are just two considerations of a traditional mortgage loans.
Now, self-employed borrowers have an alternative to traditional mortgage loans, QKMortgage.com is offering a stated income mortgage.  There is no income verification required to qualify for this type of mortgage loan, and FICO scores can be as low as 600. To qualify for a stated income loan, there is no need for self-employed borrowers to provide tax returns or income verification in order to purchase or refinance a home.
Stated Income Mortgage Requirements
There is a new set of requirements for a stated income loan, and they are considerably easier than traditional guidelines self-employed borrowers.  First, a FICO score requirement of 600 or higher is all that is required. Next, purchase down payment requirements are between 20-30% [with an allowance of 10% from gift sources].  Interest rates range from 7-9%, for loans between $125,000 and $2 million. Finally, no income verification mortgages reduce approval time for self-employed borrowers.
Self-employed borrowers can call 818-465-5861 for pre-approval on the phone or visit QKmortgage.com for more information about how to obtain a stated mortgage loan quickly and easily!