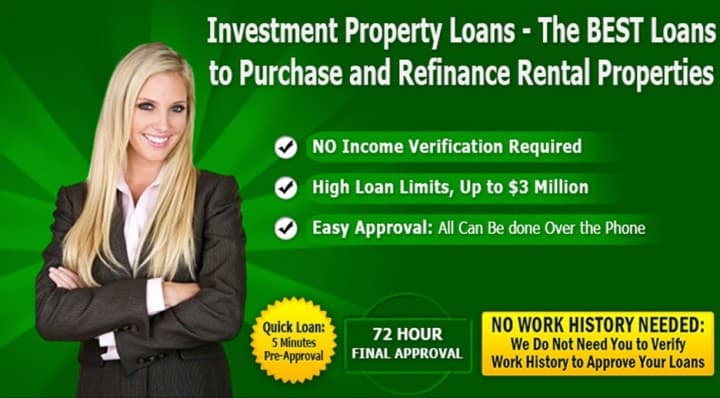 Do you want to buy your dream investment property but find that getting approved for a loan is nightmare? Stated income loans are a borrower's dream come true for investors that have been denied or frustrated when applying for conventional loans.  Now, with stated income loans, qualifying for an investment loan is quick and easy; most approvals are on the first call.
After the housing bubble burst in 2008, lenders have slowly improved guidelines and made it easier for investors to qualify for residential investment property loans. The housing market is now stronger and more stable than it has been in recent times, and there are still great investment opportunities for borrowers who have the desire to buy non-owner occupied properties.
Most analysts agree that today is one of the best times in history for investing in real estate, however, the traditional mortgage process is very paperwork intensive.  Conventional loans for investment property take too much time and require too much paperwork for most borrowers.
QKmortgage.com offers a simple way to navigate the residential investment property loan landscape.  The mission of QKmortgage.com is to make lending quick and easy and to help borrowers to avoid the hassle and delays of the conventional loan document review process.
While most traditional lenders require income documents from the past two years, QKmortgage.com offers an easier alternative: stated income loans for residential investment properties.  No income or tax documentation is required for stated income loan, underwriting is quick and easy, and loans are available up to $ 3 Million for either purchases or refinancing.
Because no income documentation is required, the turnaround time for loan approvals is fast; usually within 30 days from date of application.  A minimum of 30% down payment, which has flexibility in its sourcing, is required. Likewise, a minimum of 30% equity is required for refinancing.  A minimum FICO score of 600 is also required.  Stated residential investment property loans are available for both purchases and refinances, as long as the property is not occupied by the owner.
Qualifying for Stated Residential Investment Property Loans
QKmortgage.com makes it quick and easy to get approved for residential investment property loans.  Approvals are given over the phone, within minutes.  Fully underwritten approvals are based on a credit score of 600 or better, and meeting the minimum loan amount requirements of $125,000.
Why QKMortgage.com
QKmortgage.com lets you view different stated home loan providers and compare different loan plans and features. If your credit score is low or your reported income is low, stated loans are a good solution. The team at QKMortgage.com understands your needs and provides a plan which suits your requirements.  Your loan can be preapproved on the first call, and fully approved within hours.  Call our team today and get approved in minutes: (866) 690-7463.