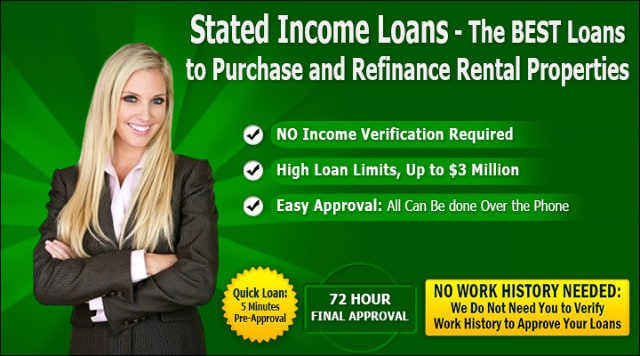 September 15, 2016, Los Angeles, California — Investors can now turn to QKMortgage.com for investment property loans to purchase rental properties without having to provide tax returns.
When it comes to buying an investment property, lending guidelines make it possible for self-employed borrowers to qualify more quickly and easily at QKMortgage.com.  The qualifying process is simple and hassle free compared to conventional loan applications and underwriting.  With stated income loans, investors are not required to submit tax documentation to be able to qualify. Also, QKMortgage.com makes it possible for borrowers to qualify with relatively low credit scores.
Self-employed borrowers often find it difficult to qualify for conventional loans because their tax returns often reflect low income as compared to their receivables. This often leads to borrowers getting disqualified for the purchase or refinancing of investment property.  Stated loans do not require high monthly income reflected on tax returns, or verifiable work history to determine loan eligibility.
Investors can opt for a stated income loan to eliminate the hassle of providing all the necessary documentation that traditional loans require.  The main advantage of stated loans is that investors qualify for the purchase of investment property based on their actual income and their ability to make monthly payments; not simply on the basis of what is declared on tax returns.
Investors do not need income verification as a factor to qualify for an investment property loan. Since the underwriting requirements are more streamline than traditional loans, the approval process of stated income loans is much quicker. The only disadvantage is that the interest rate charged is slightly higher than conventional loans.
With a mid-range FICO score of 600 or better, business owners and self-employed borrowers can obtain no income verification loans to buy investment property.  A total of 30% down payment is required to qualify for a purchase loan, 10% of that can come as gift funds from a family member or friend. Refinancing is possible as long as there is 30% equity in the property, verified by an appraisal from the lender.  It's important to note that stated income loans are only available for investment properties and not for owner-occupied properties.
Qkmortgage.com offers no income verification loans to investors who want to purchase a property as an investment. With rates at historic lows, now is the best time to purchase or refinance a property for investment.
For more information about investment property loans and how to qualify for the loans, visit https://qkmortgage.com/investment-property-loans-for-investors/
This article is also published on:
http://pr.co/
http://www.sbwire.com/

http://www.datsyn.com