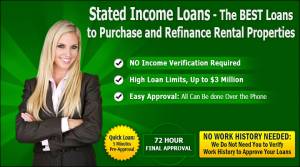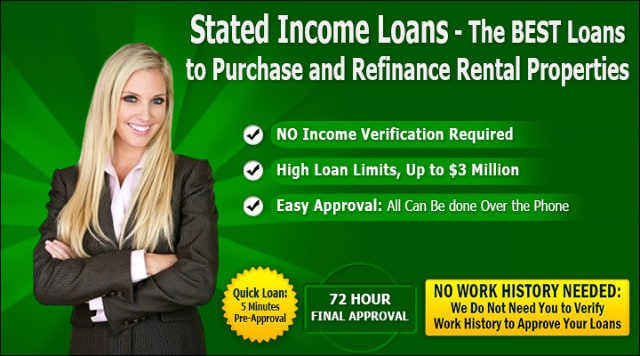 1. You own an investment property such as a rental home or apartment complex that is in need of repair or renovation. The recent addition of numerous stated income loan programs have given investment property owners a way to refinance without proving income on tax returns or verifying through a 4506T. These loans allow landlords to obtain a cash out refinance to pay for repairs and or renovations to rental properties.
2. You applied for a mortgage loan and were told that you didn't make enough money to qualify. Over the last 9 years lending institutions have held strong on debt to income ratio caps when it comes to qualifying borrowers for home loans. Only recently have those guidelines been relaxed making available numerous loan programs that use alternative income verification methods. Those methods include employer VOE, CPA letter and bank statement programs. These programs are sometimes referred to as no income loans and are easier to qualify for than your conventional mortgage loan.
3. You want to get into real estate investing but do not show enough income to get started. If you want to start buying real estate investment properties but cannot qualify due to a lack of provable income then you may need to look into no income loans that take into account the gross rental income that a property will garner on the rental market. This will allow you to build your real estate portfolio and qualify based on the properties earning potential and not your current income situation.
4. You want to leverage your rental property to pay off credit card or other personal debt. If you own an investment property you can refinance the property and pull cash out to pay off debt. Many times investment property owners are sitting on properties that they own outright or owe very little on the mortgage. For these types of borrowers no income loans are an excellent way to pay off and or lower their monthly expenses.
5. Family or personal emergencies. Many times life throws unexpected curve balls at us that we struggle to deal with. For borrowers who own investment property these situations are not as unmanageable as one may think. Many stated loan programs have evolved past the days of the subprime mortgage. Many lenders have rates starting as low as 5% and can close within 15 days from applying. As we all know money doesn't solve all problems but it sure can help.