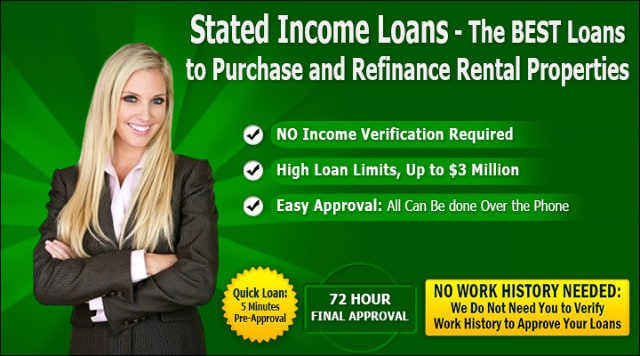 QKmortgage.com is now offering a loan program specifically dedicated for investors who currently own income producing properties including residential homes (1-4 units), condos and multifamily apartment buildings. Qualifying for the Stated Income Investor Loans will be based on rental income, cash flow, and the value of the investment property.  Personal income is not used to qualify. The stated investment property loans program requires a minimum 600 FICO score and prior Bankruptcy is ok one year after the date of discharge.
Stated Income Investor Loan Benefits

Investors can quickly access cash without the restrictions of conventional lending.  Stated income loans offer fewer underwriting requirements and factor in rental income and rising property values.  High FICO scores are not required.  No tax returns or bank statements are needed.
 Who Should Apply For Stated Income Investor Loans
Stated income loans are for investors who are looking for a high loan limit without supplying endless paperwork to qualify; making it possible for investors to easily refinance existing debt or obtain funds to purchase additional rental properties.
How to Qualify for a Stated Income Investor Loan:
Credit Scores starting at 540
As Little as 20% Down Payment
No Seasoning on Short Sale or Foreclosure
Loans up to $3 Million
Owner-Occupied, Second Homes and Investment Properties
No Tax Returns or Transcripts Required
Loans for Non-Owner Occupied properties & Second Homes
 Stated Investor Loans Funded More Quickly
Conventional loans typically require detailed underwriting and scrutiny of income where as stated investor loans are not. One of the challenges with a refinance is that it's not possible within 12 months of a purchase.  The reason is that lenders require a borrower to wait one year for an appraisal to be done after a property is purchased.  An appraisal that is done within one year of a purchase is not deemed to be adequately seasoned.
 Other Loans that QKMortgage.com Offers to Investors:
Investment Property Purchase Loans and Refinancing
Residential Second Home Loans
Commercial Rehab: Fix & Flip Loans
Cash-Out Equity Loans
Home Loans that QKMortgage.com Does Not Offer:
Owner-Occupied SFR Purchases / Refinances
Unsecured, Personal, Student loans
Consumer good loans / Payday loans
Auto Loans
Construction loans
Mobile & Manufactured Homes
Recent Examples of Successful Borrowers
John R. is a real estate investor who needed $390,000 to quickly refinance an investment property in California.  His goal was to take cash out of his rental income property so that he could make a down payment on another single family investment home.  John had a low FICO score and he was struggling to get approved for a loan with a conventional retail lender.  John called QKMortgage.com and immediately received an approval for his loan over the phone.  Within 45 days John's loan was funded and he had cash in hand to purchase his new property.
Oscar M. wanted to purchase an investment property in San Jose CA.  Oscar had no FICO score and was a Foreign National.  QKMortgage.com was able to place Oscar into an 80% LTV loan for $550,000 that closed in 20 days under our Foreign National Program.
When to Avoid Stated Income Investor Loans – Pro and Cons of Stated Loan
Stated Income investor loans are best suited for investors who are purchasing or refinancing non-owner-occupied properties.  Stated income loans generally have higher interest rates when compared to a traditional mortgage loan, depending on the lender. The requirements for down payments are typically higher than conventional mortgages.
Where to Apply for Stated Income Investor Loans

 QKMortgage.com is the premiere stated income mortgage lender for stated income investor loans.  We offer quick approvals and quick funding solutions to investors that are looking for a better option than a conventional loan for real estate investment purchases and refinancing.  QKmortgage.com approves loans on the first call, and we close loans in less than 30-60 days in most cases.  Call today for quick approval: (866) 690-7463.